Catch Report May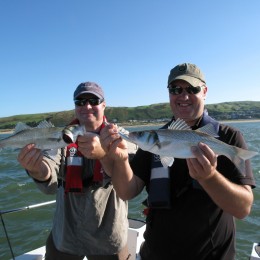 Want to catch bass? Then look no further! We're here to fulfil your dreams!
Bass Fishing Wales is based in the picturesque West Wales coastal town of Aberdovey, situated on the Dyfi Estuary with access to some of the best bass fishing reefs in Wales and the United Kingdom.
We specialise in light tackle saltwater sports fishing with lures for bass. We're sponsored by some of the biggest names in saltwater lure fishing meaning all of our customers will get to fish for bass with some of the best gear available from Lucky Craft, IMA and Fiiish.
Whilst bass fishing is our most popular package we also cater for light tackle sport fishing for tope, bream and the many other species that can be found in the rich, shallow waters of Cardigan Bay.
If you're bored of the lures then why not try something even more exhilarating, fly-fishing for bass! This ultra light weight sports fishing is guaranteed to get the adrenalin pumping leaving you wanting more and more.
Mathew Rickard, a local guide who has over 20 years experience catching bass locally hosts all Bass Fishing Wales trips. Mat is an accomplished lure and fly angler featuring in numerous national sea angling magazines such as Sea Angler and Boat Fishing Monthly as well as a regular guide on Sky Sports Angling Programme, Tight Lines.
Whether you're an experienced, hard-core angler or just looking to catch your first bass on a lure or fly rod, you can be assured that Mat will give you an experience to remember.
If you fancy something a little different, then Mat also host a number of overseas hosted trips through his work as a guide for Sports Quest Holidays, the UK's premier angling destination travel agent.